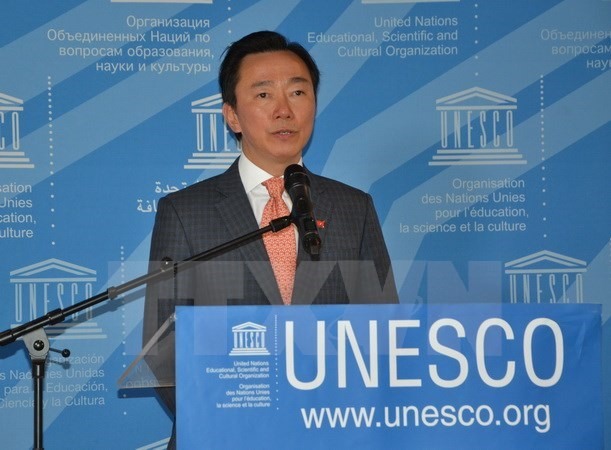 The US is withdrawing from the United Nations Educational Scientific and Cultural Organization, the US State Department announced on Thursday, citing anti-Israel bias and mounting membership dues owed to the global body.
A press statement from the State Department says the decision was also based on "the need for fundamental reform in the organization" as well as stacking up bills the US owes UNESCO.
The United States will remain a member, however, until the withdrawal takes effect on December 31, 2018.
One of UNESCO's founding nations, the United States has had a rocky relationship with the Paris-based organization over the years.
UNESCO is a body of the United Nations that promotes worldwide cooperation in education, science, culture and communication, though it is perhaps best known for its designation of "world heritage" sites - locations with particular cultural significance.
The country plans to become "a non-member observer state in order to contribute USA views, perspectives and expertise on some of the important issues undertaken by the organization, including the protection of world heritage, advocating for press freedoms, and promoting scientific collaboration and education".
The head of UNESCO, Irina Bokova, voiced "profound regret" over the decision, calling it a "loss to multilateralism".
Читайте также: Walmart's Mobile Express Returns brings seamless, convenient experience
Ms. Bokova, in a telephone interview, said she "thought the decision was coming but why now, I don't know, in the midst of elections" for a new director to replace her.
The U.S. stopped funding UNESCO after it voted to include Palestine as a member state in 2011, but the State Department has maintained a UNESCO office and sought to weigh in on policy behind the scenes.
The US has long used UNESCO as a stage for political gestures: In 1984, the Ronald Reagan withdrew the US from UNESCO, accusing it of being pro-Soviet, anti-Israel, and anti-free market. Permanent Representative to the UN Nikki Haley has repeatedly denounced these actions, and said the USA was "evaluating" whether or not it should continue as a member of the organization.
Under the Reagan Administration, the USA quit UNESCO in 1984, at the time accusing the agency of a pro- Soviet Union bias.
In the statement, Netanyahu hailed the United States move as a "courageous and moral decision". "The organisation's absurd and shameful resolutions against Israel have consequences".
In July, the agency again delighted Palestinians when its members declared the Old City of Hebron in the occupied West Bank an endangered World Heritage site - described as "another delusional decision" by Israeli Prime Minister Benjamin Netanyahu.
UNESCO also works to improve education for girls in poor countries, help them enter scientific fields, defend media freedom and coordinate world knowledge about climate change, among other activities.
При любом использовании материалов сайта и дочерних проектов, гиперссылка на обязательна.
«» 2007 - 2017 Copyright.
Автоматизированное извлечение информации сайта запрещено.


Код для вставки в блог